Do you sometimes feel like your own worst enemy? Most of us do. We all seem to have an Inner Critic we would love to silence.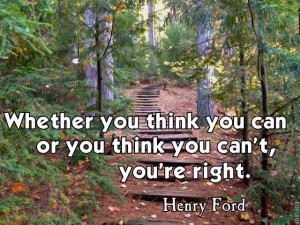 You can! Because that Inner Critic isn't you talking, it's your brain. And you can talk back. A few distinctions might help your more supportive self be heard when your Inner Critic is trying to bully you.
WHERE DOES THAT INNER CRITIC COME FROM ANYWAY?
Understanding why you even have an Inner Critic is essential to talking back effectively. It helps to have some idea what's happening upstairs when that infernal voice pipes up. Remember that old myth that your brain is done developing at the end of childhood? It's bogus. Simply not true. Your brain never stops growing. You physically remodel it every single day, whether you realize it or not.
Our brain cells are organized like points on a map, and your brain is constantly revising your mental maps, rerouting old pathways, laying down new ones, and creating fresh connections across both new and existing pathways. It's how your brain makes sense of everything that you pour into it every moment of every day.
Your Inner Critic is simply following maps you've already created. When you plan a course of action and then tell yourself, "This is never going to work," you're creating a pathway in your brain. Hear that message often enough and your brain will begin to travel that thought highway by default. The result: A loud-mouthed, bullying Inner Critic.
We have a choice in the messages we use to create our mental expressways. Barbara Fredrickson, a social psychologist who has researched this, found that our minds open up and our field of vision expands when we pay attention to positive messages and that we close up and narrow our view when faced with negative, just as some flowers open in sunlight and close in darkness.
TO OUR BRAINS, NEGATIVE IS STRONGER THAN POSITIVE
According to several research scientists, including Roy Baumeister, a social psychologist at Florida State University, we respond more quickly and with longer lasting impact to negative inputs. We remember them longer. A harsh word from a family member, colleague, or friend — even a stranger — is going to stick in your brain five times longer than a kind or encouraging word.
That means you have to be on the lookout for negative messages so you can set the record straight in your own head. Recognizing a negative message from someone else isn't that hard, because you usually feel it as well as hear it. You tense up, your heart beats a little faster, your face flushes. You know the feeling—we've all been there.
Recognizing the negative messages you tell yourself is tougher, because you don't have the same physiological response. Pay attention to your negative self-talk until you begin to recognize your Inner Critic for what it is…just an opinion and not a very accurate opinion at that.
DON'T BUY INTO YOUR BRAIN'S SCARE TACTICS
The brain's primary organizing principle is danger versus safety. Our brains don't like new thinking or behaviors that are different, because "different" smacks of danger. Our brains like "familiar" because familiar feels safe.
Just keep doing what you've always done—steering clear of risk—and your brain will be happy. Understand that when your brain says, "No! You can't do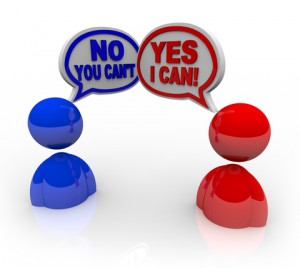 that!" it's doing its job of protecting you. Once you understand that, you have a much better shot at talking your brain down from the ledge, which leaves you more able to move into uncertain territory.
And let's face it, trying to shift into a new level of success in your life is nothing if not uncertain territory. Even thinking about making a change feels uncomfortable to your brain. You can either be scared when your brain shouts out a warning, or you can talk back. Come on back next week for ideas on how to quiet your Inner Critic. In the meantime…
WHAT'S YOUR INNER CRITIC TELLING YOU?
Please leave a comment with the most annoying thing your own Inner Critic would like you to believe. For years, mine had me believing my hand-eye coordination was substandard. Then I started talking back, and lo! I taught myself how to juggle. What  a victory….
—Molly Rose Teuke